100% relax
Farmhouse Anichino
4 Apartments, Max 18 people
Professional kitchen available
About Us
Farmhouse with swimming pool and holiday apartments, organic farm
L'Anichino is a farm in the Maremma traditionally dedicated to the cultivation of olives, high in the hills bordering the Etruscan excavations of Roselle, with a breathtaking view down to the sea, from Castiglione della Pescaia to the Parco dell'Uccellina nature reserve.
In 2014 the farm was accredited as an organic enterprise, and we produce not only extra virgin olive oil but also wildflower honey and vegetables such as aubergines, courgettes, peppers …
THE WHOLE COUNTRY HOUSE
EXCLUSIVELY FOR YOU AND YOUR FRIENDS
to fully enjoy peace and relaxation.
You will be at the top of the hillock, protected by an ecological niche, in a rigorously organic environment, where you can indulge undisturbed in nature walks or immerse yourself in Etruscan history, perhaps aboard a mountain bike, observing many wild animals in the wild.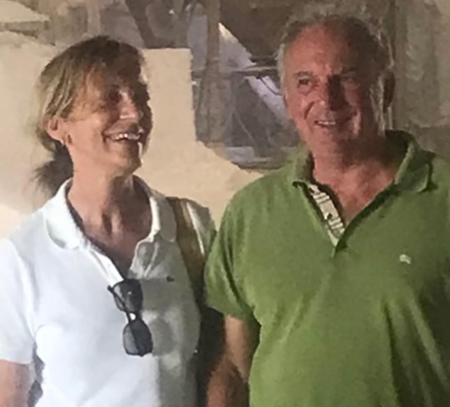 Farmhouse in Maremma, Tuscany, oasis of relaxation and nature.
Come and visit us and you will be surrounded by the beauty of the countryside with breathtaking views, which you can admire from the poolside or from the panoramic terrace.
Lorena e Stefano, Your Hosts
find out more
Apartments
farmhouse on two floors, four apartments for stays and holidayscompletely independent of each other. Furthermore, a common area with a fully equipped kitchen has been set up on the ground floor
L'Anichino…
The nucleus of the establishment consists of a two-storey farmhouse, which in recent weeks has been completely refurbished to create an accommodation facility with four apartments completely independent, from one another. Furthermore, a common area with a fully equipped kitchen has been set up on the ground floor, where guests can try their hand at making typical dishes of the Maremma tradition.
Around the farmhouse there are large green spaces with shady areas, from which to enjoy a landscape that sweeps down to the sea; immediately below the terrace, an area equipped with an outdoor swimming pool and solarium has been created. There will also be convenient parking, adjacent to the apartments.
Price per week for the entire farmhouse – Spring Offer
€2000,00
our products
Organic at Km 0
Monocultivar TOSCANO Extra Virgin Olive Oil
Organic Frantoiano NOT AVAILABLE 2023
Organic Leccino NOT AVAILABLE 2023
Orgainc Olivastra Seggianese NOT AVAILABLE 2023
jams and biscuits…
In some periods of the year, depending on the production, you can also find tasty varieties of biscuits and jams made with our 0 km products.
I was a guest of this small farmhouse in the Maremma hills at the end of July. As soon as we arrived we were greeted with warmth and sympathy. The days spent in this country house were characterized by peace and the rediscovery of those peasant activities now forgotten by those who live in the city. We were able to share some pleasant gastronomic experiences with the owners and we "exploited" the magnificent products of their organic garden. Bravo Stefano, by now also nicknamed by other guests "Mister Zucchini"!
Information
Services included
Free WiFi
Free Wi-Fi that serves all the apartments and the pool area
Free parking
Large private parking common to the whole structure
Pool
Exclusive swimming pool of the structure at the complete disposal of the guests of all the apartments
Pets
Our animal friends are welcome and can stay in the apartments and walk along the paths of the Mediterranean maquis.
Laundry area
Laundry area shared by all apartments
Comforts Apartments
Air-conditioned rooms and connection coverage in all rooms, all linen included.
Message session
Upon reservation, massages, also with essential oils, carried out by qualified personnel.
The abc of the dairy art
Would you like to learn how to make cheese the way it used to be?
Wine tasting
Anichino is in the production area of Montecucco DOC wine.
Services offered thanks to our partners:
Check-in & Check-out
CHECK IN: preferably Saturday from 17 to 20
CHECK OUT: preferably Saturday from 8 to 10
Cancellation Policy
At the time of booking, a deposit equal to 30% of the cost is required.
The reservation deposit will be fully refunded if the cancellation is made within one month of arrival.
Structure rules

Pet access rules
small and medium-sized pets are allowed free of charge; they must be kept on a leash with a muzzle in the common areas, except for the swimming pool, where their entry is forbidden.
Differentiated waste collection
An area has been organized where the bins for separate collection are located. When a bag is full it should be taken to the area set up by the Municipality of Campagnatico, along the road that leads from the farmhouse to Stiacciole, Via Scansanese. The bag for organic waste can be left in the dedicated area of the farmhouse.
Swimming pool rules
The pool has a height of 1.39 mt, consequently diving is forbidden
Use wooden clogs or rubber slippers around the pool, wear the swimming cap and take a shower and foot bath before entering the pool
Use the toilet facilities at the farmhouse
The pool is open from 9:00 to 20:00
Remove floating objects if not in use
It is forbidden to use the swimming pool for children under the age of 14, unless accompanied by adults
Bathing prohibited in bad weather conditions
Do you have a question?
Contact us!
Information
Must see… nearby
Grosseto Maremma Tuscany – "Nature in person"
Restaurants
Posto Pubblico
Dei F.lli Cech Via dell'Amore, 1, 58043 Castiglione della Pescaia GR 0564 332917
Il Tramaglio Trattoria
Di Carbonaro Alessandro Via Ansedonia, 27, 58043 Castiglione della Pescaia GR 339 652 2725
Osteria del Viandante
Via della Libertà, 19, 58043 Castiglione della Pescaia GR 0564 939400
Ristorante Canapone
P.za Dante Alighieri, 3, 58100, Grosseto 339 296 3558
Vineria Da Romolo
Via Vinzaglio, 3, 58100 Grosseto 0564 27551
L'uva e il malto
Via Giuseppe Mazzini, 165, 58100 Grosseto 0564 411211
Gli Attortellati
Strada Provinciale 40 Trappola, n. 39, 58100 Grosseto 0564 400059
Organized trips
Adventures
Shows and Events
Hiking trails
Nearby destinations not to be missed
take a break
Try the Anichino!
Contact us to find out the availability to spend your holidays with all your family or friends
(+39) 335 8271864 (Lorena)
Podere 310, Strada Comunale Castello, 58042 Campagnatico GR